Administrator
Staff member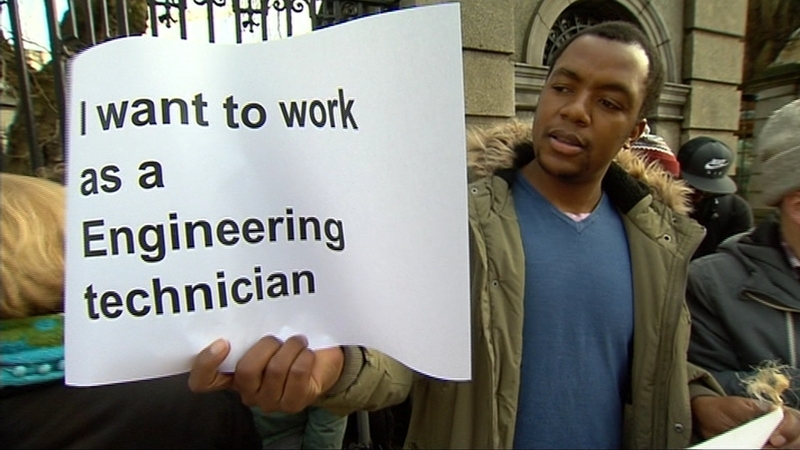 image from RTE
The Irish government are going to amend the law that will allow asylum seekers to work in any profession.
New legislation that will take effect from as early as the end of the week.
Announcing the details today, Justice Minister Charlie Flanagan said asylum seekers will be allowed to take up any form of employment except positions in An Garda Síochana, the Defence Forces and the civil service.
Asylum seekers who take advantage of the scheme and gain employment will now have the option to leave direct provision and seek alternative employment. This would suggest that housing support payments will be made available to them.
It is believed up to 3,000 asylum seekers will be eligible to take part in the scheme.
The restrictions on employment being above €30,000 or more and not displacing an Irish citizen from employment are also being dropped.
Rules:
The requirements to join the scheme stipulate that Asylum seekers must have been in Ireland for a period of nine months or more and be awaiting a first decision form the International Protection Office about their asylum.
Any applicants failing their application for Asylum will be allowed to appeal and can applot for their permission to work to be renewed.
However, once a final decision – after the appeals process is concluded – is made, their labour market access permission will cease.
Currently, Ireland has the lowest number of rejected appeals in Europe, over 80% of appeals are successful.
http://migrationfactsireland.com/th...ejected-asylum-appeals-in-europe-just-20.240/
Access to social welfare payments
Access to social welfare payments will also be permitted to those who find employment, asylum seekers will also enjoy access to their Direct Provision payments for a further 12 weeks after finding employment.
Currently, asylum seekers living in Direct Provision have a weekly allowance of €21.60 and can buy food using a recently introduced points system.
Contribution.
Under these new rules once an applicant finds employment they will have to start contributing to their cost of living in Direct Provision, currently the cost for Direct Provision os €35 per day, this would suggest asylum seekers would be better of private renting and make applications for housing benefit for which they will be now entitled too, thus adding more pressure to the currently overcrowded housing register.
Under the new rules, those that do find employment will have to start contributing to the cost of their stay at a Direct Provision centre. The cost per person, per day, for staying in one of these centres is €35. The more you earn the more you will have to pay, however, there will be no charge for children.
Welcome news by the local business groups.
The government have said the additional workforce has been welcomed by business groups, with whom department officials are meeting tomorrow. The minister said the scheme will add to the diversity in some workplaces, though there is no incentives for employers to hire those eligible for the programme.
Read more here
https://www.rte.ie/news/2018/0627/973666-asylum-seekers-employment/